Giving back to Florida communities…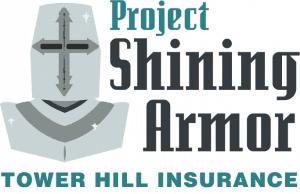 We are excited to introduce Project Shining Armor, Tower Hill's program for giving back! Project Shining Armor is a new opportunity for our Personal Lines agencies to help communities across Florida. How can your agency participate? Every month, Tower Hill will donate funds to selected non-profit organizations in Florida based on new business policies submitted by our agencies on Project Shining Armor Day.
Make a Positive Difference
On our social channels, we'll announce the Project Shining Armor date, new business submission guidelines and the non-profit selected for that month. We are excited to partner with our agencies to make a positive difference across Florida.

For our first Project Shining Armor Day on Thursday, July 18th, for each new condominium (HO6) policy submitted that day, we'll donate $100 to the Florida Guardian ad Litem program. The Florida Guardian ad Litem Program is committed to advocating for the best interests of Florida's abused, abandoned and neglected children. The organization recruits and trains volunteers from the community to become child advocates and work with Program staff and attorneys to represent the child.
Stronger Together
At Tower Hill, we believe in the importance of giving back to the communities that we serve. We hope you and your agency team will join us in these efforts to help non-profit organizations in need. Follow us on Facebook, Twitter, and LinkedIn for the latest Project Shining Armor news. To learn more about our program and the positive impact that partnering with Tower Hill can have on your local community, visit THIG.com/ShiningArmor.